The UK government has urged people to work from home where possible to prevent the spread of Coronavirus (COVID-19)
If you need help implementing home working call us on 0161 976 2450 If you need help for yourself or family members call us.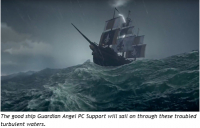 We will do all we can for you or your business in these dark uncertain times.
Working from home is great if you can do that, let's not forget those that can't & have jobs & business ripped from under there feet in an instant.
Given the current situation with coronavirus and the recent government announcements, as we have the capability to work from home, everyone here at Guardian Angel PC Support are now doing so.
Our home office telecoms IP system is now in place. Our thanks go to our telecom guys at Infinitel they did a brilliant job ensuring all our team are on the same telecom network whilst working from home.
Our aim is to minimise impact on our business operations which will allow us to continue to deliver the very best possible IT support to all our business members, home members & friends at a time when IT support & the internet has never been more important.
We are well placed to deliver computer support by the use of our remote support software, we are never more than a call away. If you have any IT problems what so ever call us, we have the solutions.
We can and will collect & deliver back to you any device needing attention.
We are considered as an essential IT infrastructure business, we can travel.
We know that scammers may take advantage of this situation, so please be extra careful and alert to suspicious phone calls, texts or emails about coronavirus from anyone claiming to be from the bank or other trusted organisations.